Do you want to learn how to get motivated when all you want to do is lay down and look at the ceiling? Look no further.
Having a lack of motivation happens to all of your more often than not. We can fight it all we want but there are times where we just need to accept that we won't do the things we set ourselves to do that day.
And that's totally okay. As long as it doesn't happen every single day, of course.
Continue reading to find out how you can get motivated and crush your goals!
HOW TO GET MOTIVATED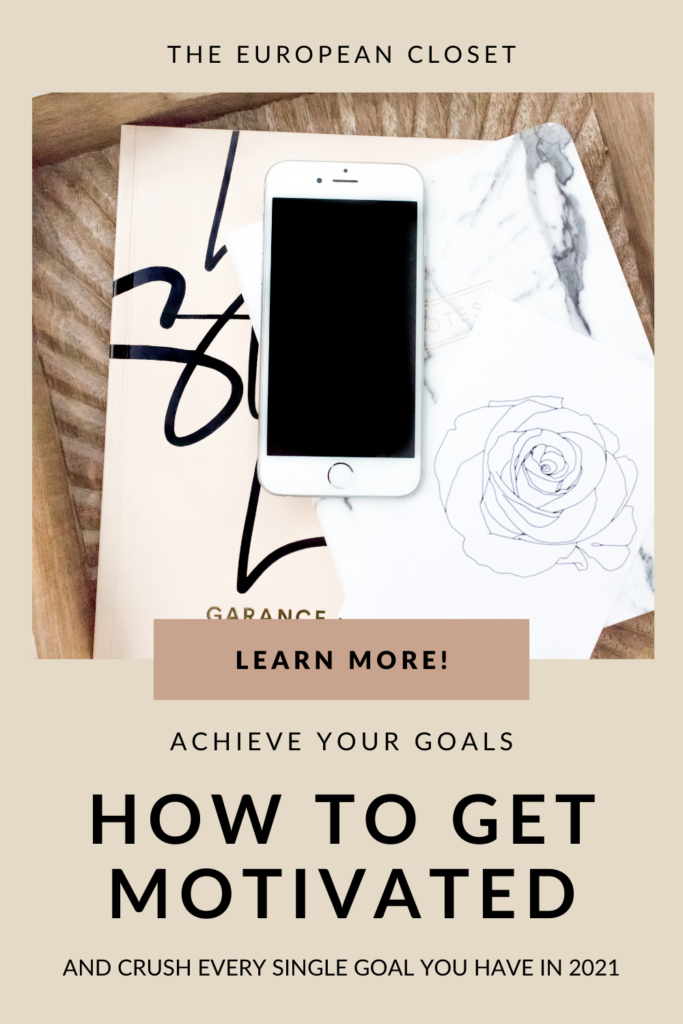 Productive Procrastination
One of the main things that drown your motivation is the fact that you planned to do things you don't want to do that day.
Instead, do things that you weren't planning to do but that are going to move you forward. That means, no just sitting down and watching Netflix for 6 hours straight. Unless you're a Netflix show critic – then do your thing!
Let's say you planned to do a HIIT workout today but you're just not feeling it. Go for an easier workout like Yoga. You're still doing something that will move you forward in your goals (I'm imagining your goal is to get healthier btw), it's just not what you planned.
This can be applied to everything in your life so keep this in mind when your motivation is at below zero.
Use your actions to create motivation
We are used to thinking that we need to get motivated to take action when in fact that's not how it works. It's a lot easier for humans to do something and get motivated by that action.
Think about it.
How many times have you not wanted to do something, but had to do it? You do it thinking you'll give up after 10 minutes but those 10 minutes pass and you think "now that I'm here might as well finish it". See?
Break actions down
Most of the time we don't want to do something because the task seems too big and we have no idea where to start.
Been there, done that.
But you know what helped? I broke the task down into smaller, more manageable steps.
For example, I had no motivation to write this blog post. So I broke it down into smaller tasks
I wrote a rough outline last night
I wrote the whole blog post this morning
I created the graphics, added them to the post and scheduled it this afternoon.
Doing things like this might take a while longer but I can assure you your motivation will be high and you won't get burned out and give up.
Reward yourself
Having something to look forward to at the end of something is always motivating. Give yourself a little reward when you end your task. It can be something like a pastry, a 1-hour break sitting on the couch, it's your call.
If you're working on a big project, rewards are also very useful to keep you motivated. Create checkpoints where you'll reward yourself when you reach them.
So these are my tips on how to get motivated. Do you have any tips of your own?
If you liked this post, you might also like:
How To Stay Motivated When Working From Home
What To Do When You're Not Feeling Motivated
How To Plan Your Week To Be Productive