50+ Book Blog Post Ideas Your Readers Will Love
If you're a book blogger looking for book blog post ideas, this post is just the thing you're looking for.
Welcome to the first installment of my new blog post series called "Blog Post Ideas". Creative I know....
To start things off, I'm sharing with you more than 30 book blog post ideas your readers will absolutely love reading.
I am a book lover myself so I'm always on the hunt for my next read. I love reading book blogs because they always have the latest and best book recommendations around.
If you are a beginner book blogger (or even a seasoned one who's run out of ideas) these book blog post ideas are a great resource to have in hand when creating your content calendar.
Book Blog Post Ideas
Best books for people who don't like to read
Best productivity books
Kindle Vs Kobo
Physical books vs digital books
Best chicklit books
best self-developement books
5 productivity books that will change the way you work
Best health books for people who want to loose weight
Best thriller books of [insert year]
Best romance books for beginners
How to use good reads to find amazing books
Best books to read on the beach
10 books to read on commute to work
Your all time favorite books
20 Books that are better than the movies
Books to read in your 20's
Best books for 1st time moms
Best books for teenagers to read
5 holiday books to read this Christmas
Best places to buy 2nd hand books
How to organize your bookshelves
Your favorite beach reads
Autumn- inspired books
Winter-inspired books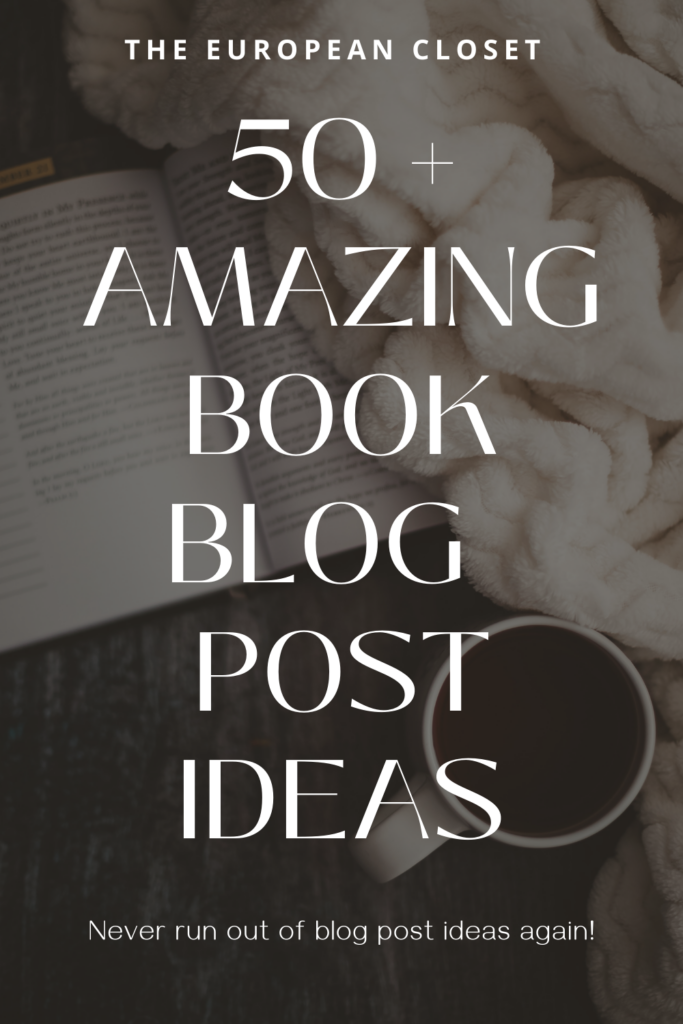 7 fiction books that aren't about romance
10 amazing fantasy books
Best trilogies out there
Unpopular opinions about successful books
How to keep track of all the books you reasd
Spring-inspired books
Summer-inspired books
Best books about relationships
Best books about studying
Best books about habits and routines
Best books about note-taking
10 funny and light-hearted books you'll love
Amazing books about goal setting
5 books that will make you cry
Review the latest book you've read
How to read more
How to get out of a reading slump
Books [famous person] recommends
How to use Audible
How to use Libby
5 Books like [insert book everyone is talking about at that moment]
Best book quotes of [insert year]
Monthly TBR
How to use/create a book journal
Best Bookstagrams
Best Booktubers
Book haul
Books you didn0t finish & why
If you want even more blog post ideas, make sure to download my FREE "Blog post Ideas" Ebook. Just sign up below and you'll receive it in your inbox in no time!
If you liked this post, you might also like:
FOLLOW ME:
VIRTUAL STYLING INSTAGRAM | PERSONAL INSTAGRAM | TWITTER | PINTEREST | BLOGLOVIN | FACEBOOK