Women who love to dress stylishly and comfortably can appreciate the addition of a good crew neck sweater into their wardrobe no matter the season.
A crew neck sweater is a versatile article of clothing that can offer all women either a statement piece or an effortlessly cool and comfortable outfit that they will love to wear on many different occasions.
Crew neck sweaters are an excellent option for women who want to style an outfit that is both unique and fashionable. Women's sweaters can be worn as is or with cuffed sleeves for warmer weather.
They can also be layered with items like turtlenecks or collared shirts and worn during the colder winter.
How To Style a Crew Neck Sweater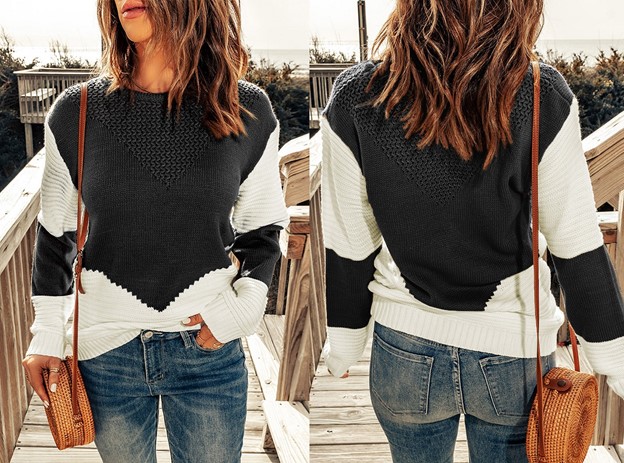 While you run errands for the day or grab a quick coffee, you will notice more outfits paired with wholesale sweaters that are perfect for the impending fall and winter seasons. Remember that comfort is key when selecting the ideal crew neck to assemble your outfit. A high-quality cotton or microfiber blend of the wholesale sweater will make you feel cozy and relaxed simultaneously.
Another factor to consider when choosing the right sweater to design your outfit for the day is the size of your crew neck. A crew neck closer to your body size is more tight fitting which can offer your outfit sophisticated, clean lines. Increasing your sweater by one or two sizes will give off a slouchy or more chilled skater style for your outfits.
The versatility of crewnecks for women can allow for various outfit choices based on different colors, patterns, and accessories styles. You can dress crew neck sweaters up or down depending on your style or aesthetic. Styling women's sweaters are a simple and fun endeavor that can show off your unique fashion sense.
You can choose between a myriad of base or neutral colors from wholesale sweaters, such as cream, black, beige, charcoal, or dark brown. These colors will give you a chic or sophisticated appearance and pair well with statement pieces such as scarves, hats, earrings, rings, vests, or anything else that makes your outfit more interesting.
Try pairing a neutral color of a wholesale sweater with bright tones like gold jewelry to take your look up a notch. Large gold jewelry offers intriguing statement looks, while small gold accessories punctuate your outfits just the right way.
Enhance your crew neck sweater by selecting a matching or contrasting bag to accommodate your look as you browse the mall or farmers market. If your style tends to lean towards the dramatic, you can pair your crew neck with a dark skirt, burgundy pumps, and black sunglasses.
This look can add depth and drama to any ensemble with the right makeup combination. The possibilities are endless for women's sweaters, as they can be fashioned in any way to accentuate your preferred style while keeping you comfortable and warm.
FOLLOW ME:
VIRTUAL STYLING INSTAGRAM | PERSONAL INSTAGRAM | TWITTER | PINTEREST | BLOGLOVIN | FACEBOOK
If you liked this post, you might also like: