Are you looking to create a fall capsule wardrobe but don't know where to start? You've come to the right place.
In today's blog post I'm sharing with you my top 5 wardrobe essentials for women.
What is a capsule wardrobe?
According to Caroline Joy of Unfancy, "[A capsule wardrobe is] a practice of editing your wardrobe down to your favorite clothes (clothes that fit your lifestyle + body right now), remixing them regularly, and shopping less often and more intentionally."
Doesn't this sound great? Having a small wardrobe with endless outfit combinations just sounds amazing to me.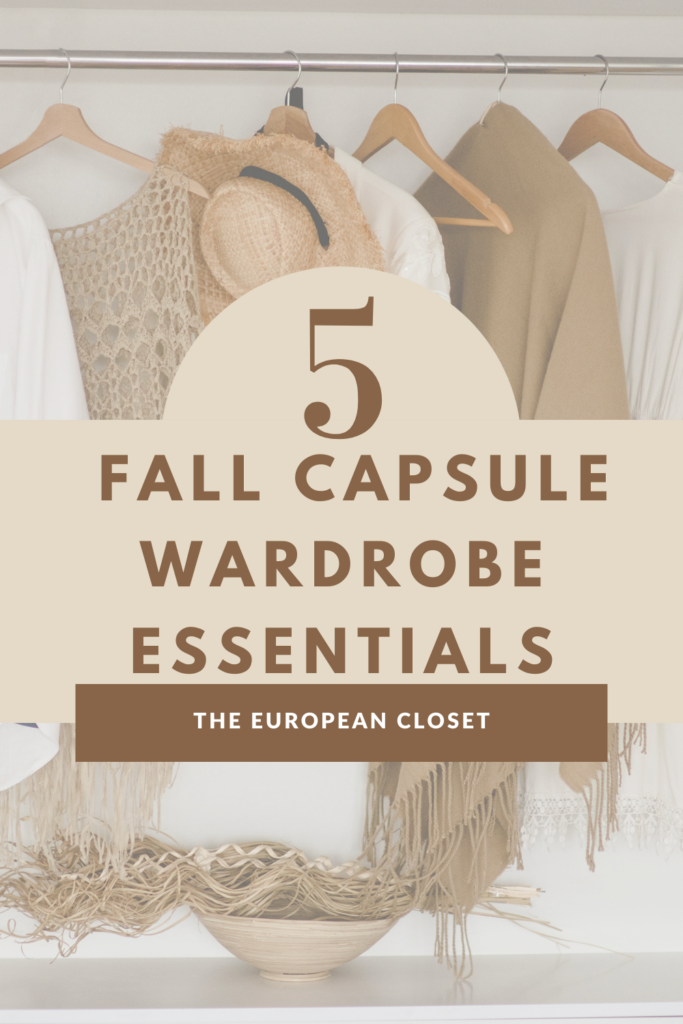 FALL CAPSULE WARDROBE ESSENTIALS
Jeans
What's a fall capsule wardrobe post without jeans?
Jeans are that piece that has so much versatility it's insane. And they come in a bunch of different styles and colors.
We all know baggy jeans are in right now, but if you want a more classic look without having to resort to skinny jeans (which I still love btw), go for a straight-leg model. It will give you the movement baggy jeans do and the structure skinny jeans do. It's the perfect in-between piece.
SHOP JEANS

Cardigans
Cardigans are probably the best transitional piece to have in your fall wardrobe. You know those unpredictable days where you're hot one minute and cold the second?
Well, cardigans are THE item to have in hand on those days. Just throw a cute top or t-shirt underneath and you're good to go.
I can't tell you how many times cardigans have been helpful to me on those kinds of days.
SHOP CARDIGANS

Trenchcoats
Trenchcoats are another amazing transition piece. They can be paired with everything from dresses to jeans, which is just great for when you need a jacket but don't know which one will look good with your outfit.
If you want some trenchcoat outfit inspiration, I have a whole blog post where I show you ways to style your favorite trench.
SHOP TRENCHCOATS

Flat Boots
This means any kind of flat boots: Chelsea boots, over-the-knee boots, chunky boots, take your pick.
The point here is that you should have a good pair of flat boots on your fall wardrobe. Boots give your looks a more put-together look.
And flat boots are super comfortable and helpful to walk around in the rain, so that's a plus!
SHOP FLAT BOOTS

Knit Sweaters
Fall means sweater weather so of course, I was going to have to mention knit sweaters.
There are so many styles of knit sweaters out there so I'm sure you will find at least one that you will love.
I recommend you go for a more classic knit sweater, without any kind of prints and with a neutral color. Cream and grey sweaters are my personal favorites.
But if you want to go for a colorful sweater, by all means, go for it! Just make sure you will wear it a lot.
SHOP KNIT SWEATERS

Bonus Tip!
Anything leather is also a great fall capsule wardrobe essential! I personally love leather jackets and leather pants. Faux leather, of course.
So, these are my 5 fall capsule wardrobe essentials for women. What are your fall capsule wardrobe basics?
If you liked this post: you might also like:
FOLLOW ME:
VIRTUAL STYLING INSTAGRAM | PERSONAL INSTAGRAM | TWITTER | PINTEREST | BLOGLOVIN | FACEBOOK