If you're looking for the best fall/winter 2021 fashion trends, you've landed in the right place.
Can you actually believe we're gonna talk fall winter fashion on this blog post? Already? Wasn't it june like two weeks ago?
This year, we're finally seeing fashion go back to normal. As I mentioned on one of my fashion trend blog posts before, designers weren't very "innovative" with their trends last year.
I don't mean this in a bad way, obviously. The last thing on everyone's minds in 2020 was dressing according to the trends.
So designers opted for recycling trends from 2019 or even just emphasizing the basics.
This year, though, we're seeing the return of new trends. And I'm all for it.
But enough of me rambling, that's not what you're here for.
Here are the best fall/winter 2021 fashion trends.
Fall/Winter 2021 Fashion Trends
Disclaimer: This post contains affiliate links which means I may receive a small commission when you purchase an item through these links. There is no additional cost to you.
Bright Colors
The first trend we'll talk about is one that we normally associate with summer: bright colors.
We're so used to see muted colors on fall/ winter fashion that this at first seems kinda weird. But hear me out.
What a better way to evoke that summer feeling then to wear summer colors?
Of course, I'm not urging you to wear all pink, especially if you're someone who's not used to color. But try out pops of color here and there on your fall outfits.
I personally love to do this with accessories, i.e. bags. But you can do it with a cool scarf, earring and even boots.
Which leads me to the second fall winter 2021 fashion trend…
SHOP BRIGHT COLORS:

Chunky Boots
Chunky boots are a trend that kind of became a fall/winter staple. In the past 2 to 3 years chunky boots have been everywhere. I even have a whole blog post dedicated to how to style chunky boots.
Safe to say they have become more of a basic then a trend. But I still wanted to include it.
I love chunky boots. There's no better way to give your fall outfit that "umph" than with a good pair of chunky boots. The chunkier the better, just saying.
SHOP CHUNKY BOOTS: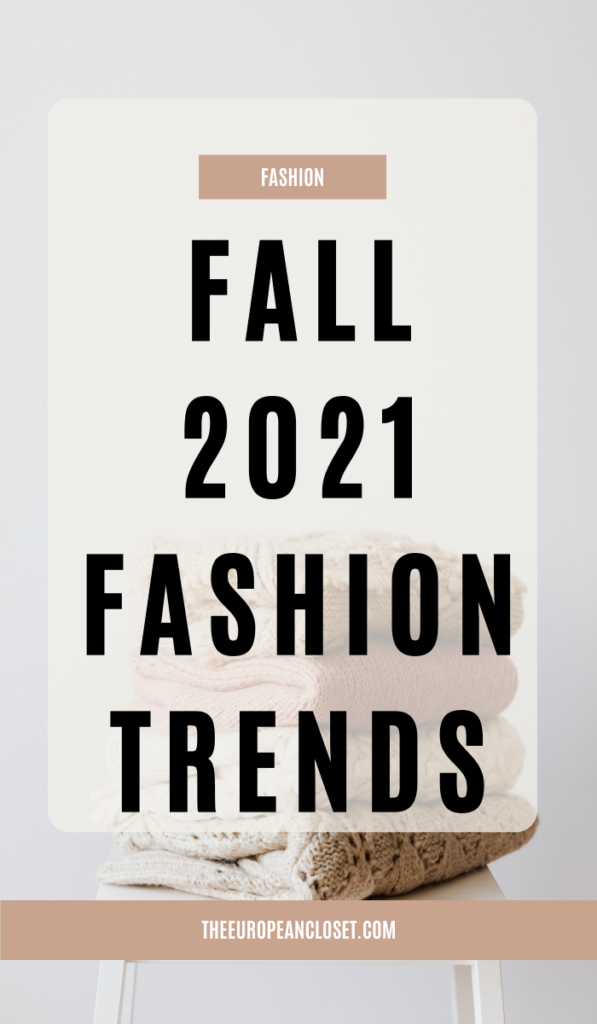 Floral Prints
Florals for Spring? Groundbreaking
What about florals for Fall?
We all know that florals and spring/summer go hand-in-hand, but seeing this pattern in colder months isn't really something usual?
This year they are.
Think cottagecore floral patterns, those flower prints that remind you of your grandma's old curtains. That's this trend.
You will see this pattern in a lot of dainty blouses and ruffled dresses, which are basically the it pieces of the cottagecore movement.
These patterns will come in more muted colors, in order with the "traditional" fall/winter colors, but I'm sure we will see them in bright colors as well, pairing two trends in one
SHOP FLORAL PRINTS:

Micro Minis
Mini skirts and dresses are a trend that will continue from summer. This trend is perfect to wear with high boots, whether that be under the knee or over it.
Pair them with a cute bag and your look is complete!
SHOP MICRO MINIS:

If you'd like to see all of these trends in action, make sure to follow my Virtual Styling Instagram where I'll be posting outfits incorporating all these trends!
FOLLOW ME:
VIRTUAL STYLING INSTAGRAM | PERSONAL INSTAGRAM | TWITTER | PINTEREST | BLOGLOVIN | FACEBOOK