Do you want to become a productivity machine? Follow these work from home tips and you'll be one in no time
Working from home was once viewed as a privilege. Now, it's viewed as an obligation.
I don't think I need to explain why that is right? I mean we all know why, don't we miss Rona?
Even after almost a whole year working from home, a lot of people still have difficulties setting boundaries, defining priorities and overall being productive.
In today's post, I've compiled my top 7 work from home tips for you to be your most productive self. Follow all these tips and you will be a productivity machine in no time.
7 WORK FORM HOME TIPS
Have a specific place to work from
Having certain elements that help your brain understand that there is the space where you focus on your work. It doesn't have to be a whole room – just a table with a chair on your bedroom, living room or even kitchen.
Have a space that your brain will easily associate with work – this will help it understand when it's time to focus.
Have fixed schedules
Just like when you're working at an office, you should have a schedule, and follow it. It's easy to carry on working until late at night or even star super late, so that's why having a schedule is important. It sets boundaries for you and people who live with you.
Get Dressed
Don't loose comfort but don't stay in your pajamas. The clothes we wear can and will influence your productivity and even your mood so choose something that makes you feel productive but don't squeeze you to death.
RELATED: 10 (More) Work From Home Outfits
My go-to outfit is a pair of leggings, a cute sweater and comfy shoes. Most of the time I'm actually in just my socks but when I feel fancy I'll put on some sneakers.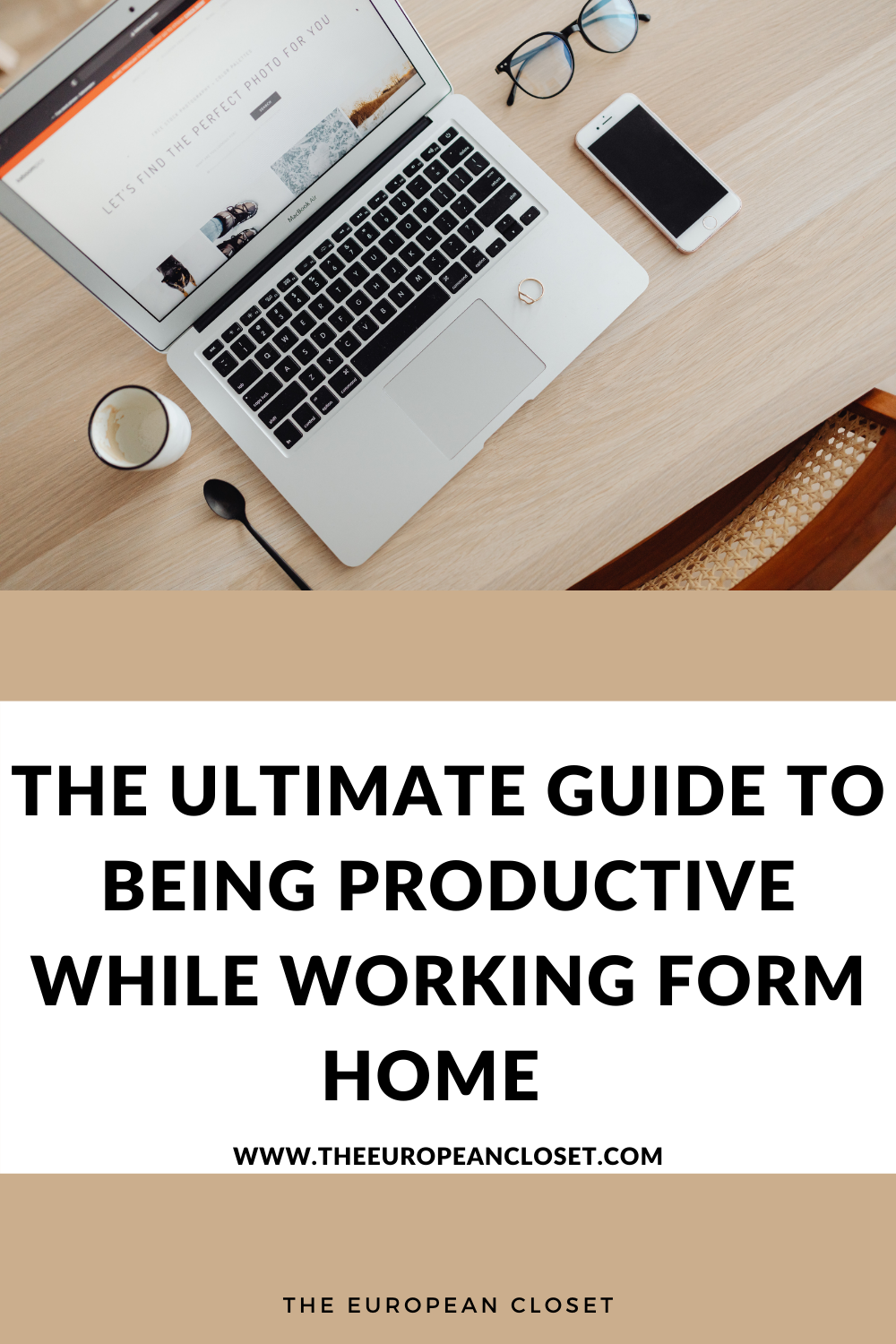 Simple systems
Don't waste time on creating super elaborate systems and using a bunch of tools at the same time. Be as simple as possible so you can keep your consistency.
There's no use in having a bunch of apps you use at the same time
Keep your phone away
If you actually need it for your work, disable any notifications from social media apps like Instagram and twitter. If you don't need it, chuck in in a drawer or better yet put it on a different room.
It takes about 23 minutes for our brains to switch from one thing to another so if you break your concentration by using your phone you're wasting precious time.
Don't multitask
Don't try to do a million things at the same time. Focus your time and energy in one task at a time. Wanting to do it all at the same time means you won't get anything done, so keep that in mind.
Write it down
Jot everything down from tasks, to ideas, goals, deadline and organize that information in one place.
I personally use Notion to do this but you can use any app you want or if you're a paper person just do it in a notebook.
The goal here is for you to just have everything out of your mind. There's not need to occupy brain real-estate with random things that have nothing to do with what you're working on at that moment.
FOLLOW ME:
VIRTUAL STYLING INSTAGRAM | PERSONAL INSTAGRAM | TWITTER | PINTEREST | BLOGLOVIN | FACEBOOK