How I Use Notion For Blogging : Top Tips
If you're an OG follower of this blog, you'll probably know I was a ride or die for Evernote. I absolutely loved it and used it to organize EVERYTHING in my life from my uni notes to my lists. Well, that changed in early 2020 when I started to use Notion for blogging.
Truth is, I've been hearing about Notion since late 2018, early 2019 but I never tried it. I was so used to Evernote that I didn't want to move my whole organization system somewhere else.
However, that changed when I started to recognize the lack of features in Evernote. I still love Evernote and use it sporadically to this day, but I just felt something was missing.
I decided to finally take the plunge and switch to Notion after seeing one of my favorite YouTubers MuchelleB doing a video on it. The way she raved about the app, as well as the way she organized things made me switch.
So I grabbed her free Life Dash template and went to town. And let me tell you: it completely changed the way I organize everything in my life.
I now have a place where I can put every single detail of my life and don't have to have things scattered across multiple platforms.
Before, I had my content calendar on Google calendar, important blog documents on Google Docs, my blogpost drafts on Evernote, and so on. Now with Notion, everything is compiled into one place, which makes my life a whole lot easier.
Before we get started, I thought it would be a good idea to tell you what, in my opinion, are the pros and cons of Notion. This way you can make a more informed decision as to if you want to try it out.
What I Like About Notion
It loads pretty fast
You can upload files, images and everything you can think of without a limit. The only limit there is (on the free plan) is that these images and files must be under 5MB.
The emojies and covers give the app a super cute look and it makes you excited to log in
The Table Database is just *chef's kiss*
You can create your won templates - this is life-changing
Related databases. This feature is super helpful
There are loads of templates you can choose from if you don't want to create your own pages
What I Don't Like About Notion
The block-style text kinda irks me at times, but nothing I can't overcome
The Kanban database isn't as good as Trello's - but it still works great
Sometimes you feel pressured to keep your Notion super "aesthetic" because of what you see on other people's Notions
The webcliper doesn't clip text from emails - something Evernotes does and I love
Having a page as a database doesn't allow you to see the sub-pages on the sidebar. This means you need to click on the database to search for what you want
With all of this being said, I still think that Notion can be a tool for everyone because it's super flexible and, although it has its cons, the pros are much more.
But enough of my opinion. Let's get into what you're here for. How I use Notion for blogging.
HOW I USE NOTION FOR BLOGGING
Main Dash
One common thing among Notion users is dashboards. Dashboards are basically command centers that are connected to a bunch of other pages. I have a Life Dash where all pages related to my daily life are connected and then I have my TEC Dash. In there I keep all my dashboards related to The European Closet.
As you can see from the picture above, my TEC Dash is kind of like a cover page for all my other dashboards. I have dashboards for my blog, Instagram, Newsletter and Pinterest. Below that, there's my content calendar.
My content calendar is linked to several pages on my Notion (one of my favorite featured btw) but on my main dash I have all content I need to create for the month displayed. On my other dashboards I have the calendar displaying only content regarding the platform it's in.
For example, on my Instagram Dash, only Instagram posts and stories appear on the calendar.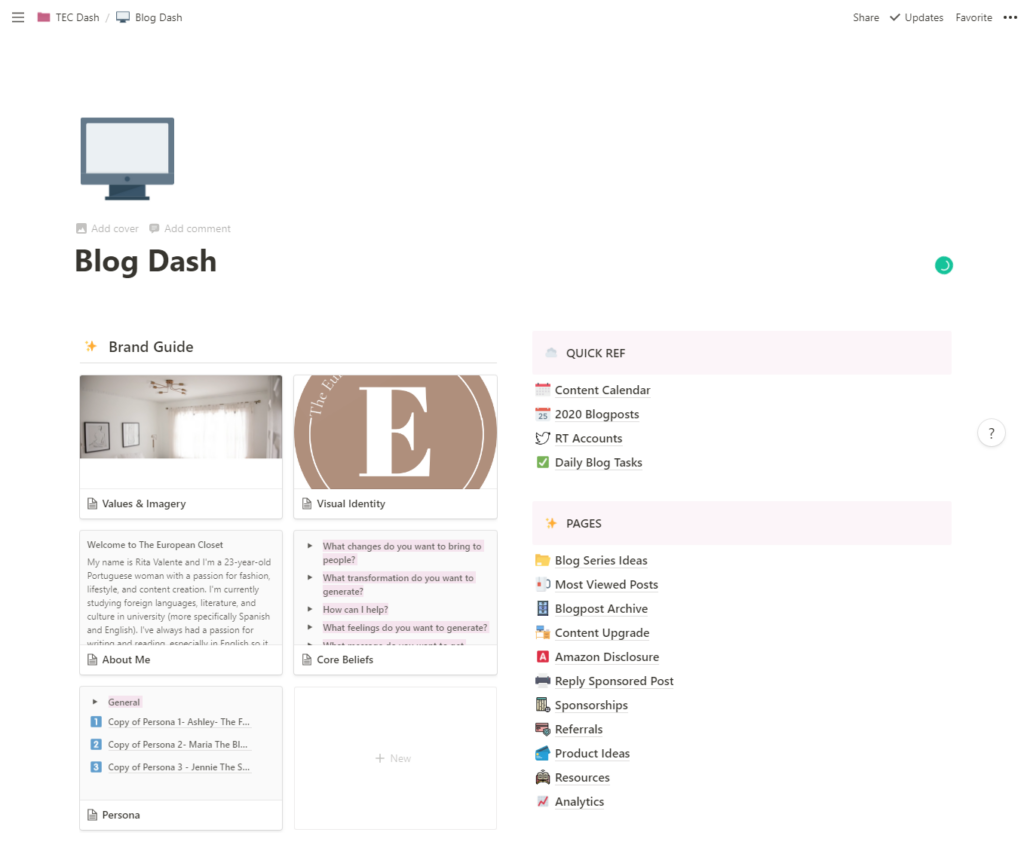 Blog Dash
My Blog Dash houses every single thing related to this blog. From the content calendar to to-dos and even templates I use to reply to emails. From all of my TEC dashboards, this one is where I spend most of my time.
I decided to divide my dash into 3 parts: my brand guide on the left, my pages on the bottom right and my quick ref on the top right.
On my quick ref section I added my frequently-used pages aka my daily blog tasks, calendar and others.
My Brand Guide page is not something I need to look at everyday so it's not on my quick ref section, but I decided to give it its own section. Why? Because even though I don't need to look at it everyday, I like to take a look at it often to reconnect with the values and core beliefs on my brand.
Visual Identity
Inside my Brand Guide gallery lays my visual identity page. Again, this is not somehting I need to look at often but I like to have it on display because I find it pretty.
It's a very helpful page, though. Having my color palette only a click away makes creating graphics a lot easier as I don't need to be searching for the Hex codes every time I create a new graphic.
Daily Blog Tasks
This page is pretty self-explanatory, right? Well, I think so.
Basically, these are all the daily to-do's I need (or should, cause sometimes I don't do these) to complete to maintain my blog and all social media related to it.
Not all of these tasks are necessarily admin tasks though. Some are meant to get my blog out there. For instance, commenting on other's posts. You need to give love to receive love right?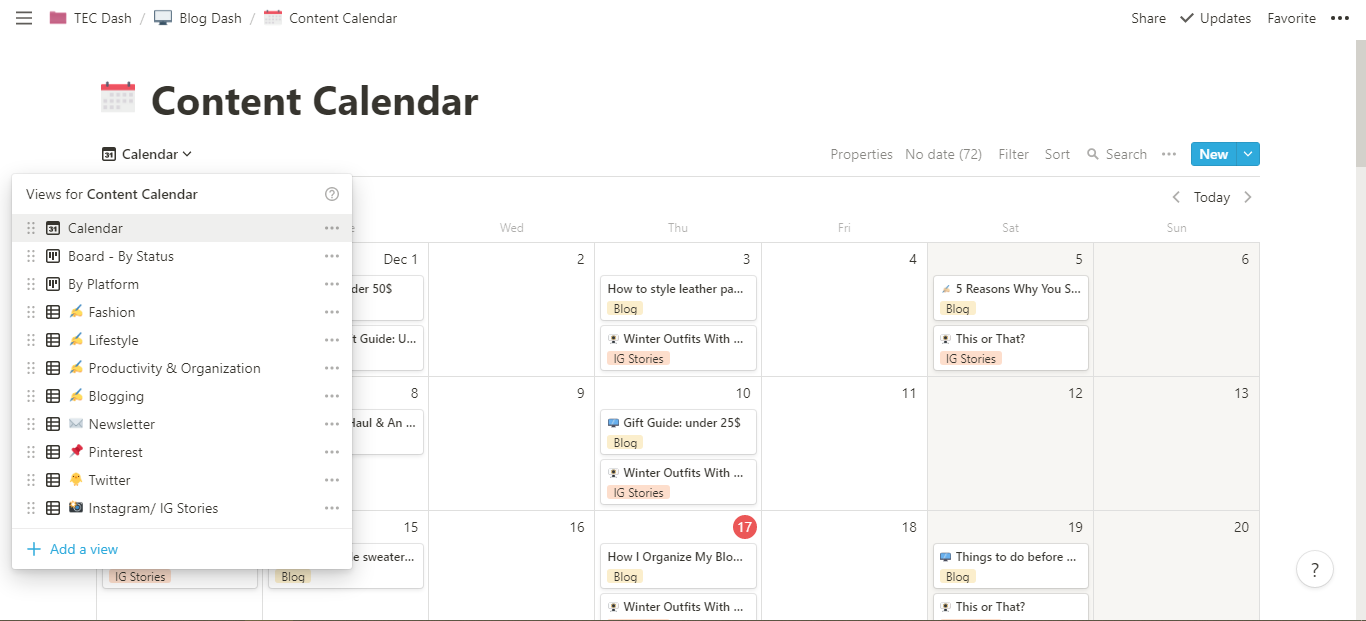 Notion For Blogging: Content Calendar + All Its Views
Next up we have my content calendar. This is where I schedule all the content I want to produce at any given month.
What I love the most about Notion is the ability to view your pages in a variety of different ways from calendars to kanban boards, tables, galleries, lists and timelines. I always take advantage of that.
As you can see in the picture above, I have a ton of different views for my content calendar. I have tables with all my ideas filtered by category, a kanban board where my posts are grouped by status, and many other views.
I find it amazing that I can have my ideas and my calendar all in the same place without being all messy. On my calendar view, only the posts with dates appear, while the others only appear on my ideas view.
Blogpost Template
The best feature that Notion has by bar is the template button. You can create a template for pretty much anything and not have to worry about creating something from scratch.
This is my blogpost template. It's pretty simple but it works wonders.
On the top part, I have my blogpost workflow checklist hidden under a toggle (so as it doesn't occupy a lot of real estate). Next to it, I have space for me to write all the important keywords I want to include in my post.
Under that, I have my "Who is this for?" section. Here, I decide which three of my personas is the post for. If you're interested in knowing more about what personas are, let me know. I'll make a post about it.
Following that, I have a space to list any relevant posts I've created before that could interest people who are reading, as well as a space to jot down the post's tags.
Then, I have a space to write the actual blogpost, a space to add all photos and graphics I'll be using and then I just have my signature and social media links for me to use in the end of each post.
At the very top, I have my properties. You can create any kind of property you want for your pages. I have the publishing date, sponsor, the status of the post, category, and platform where it's going to be published.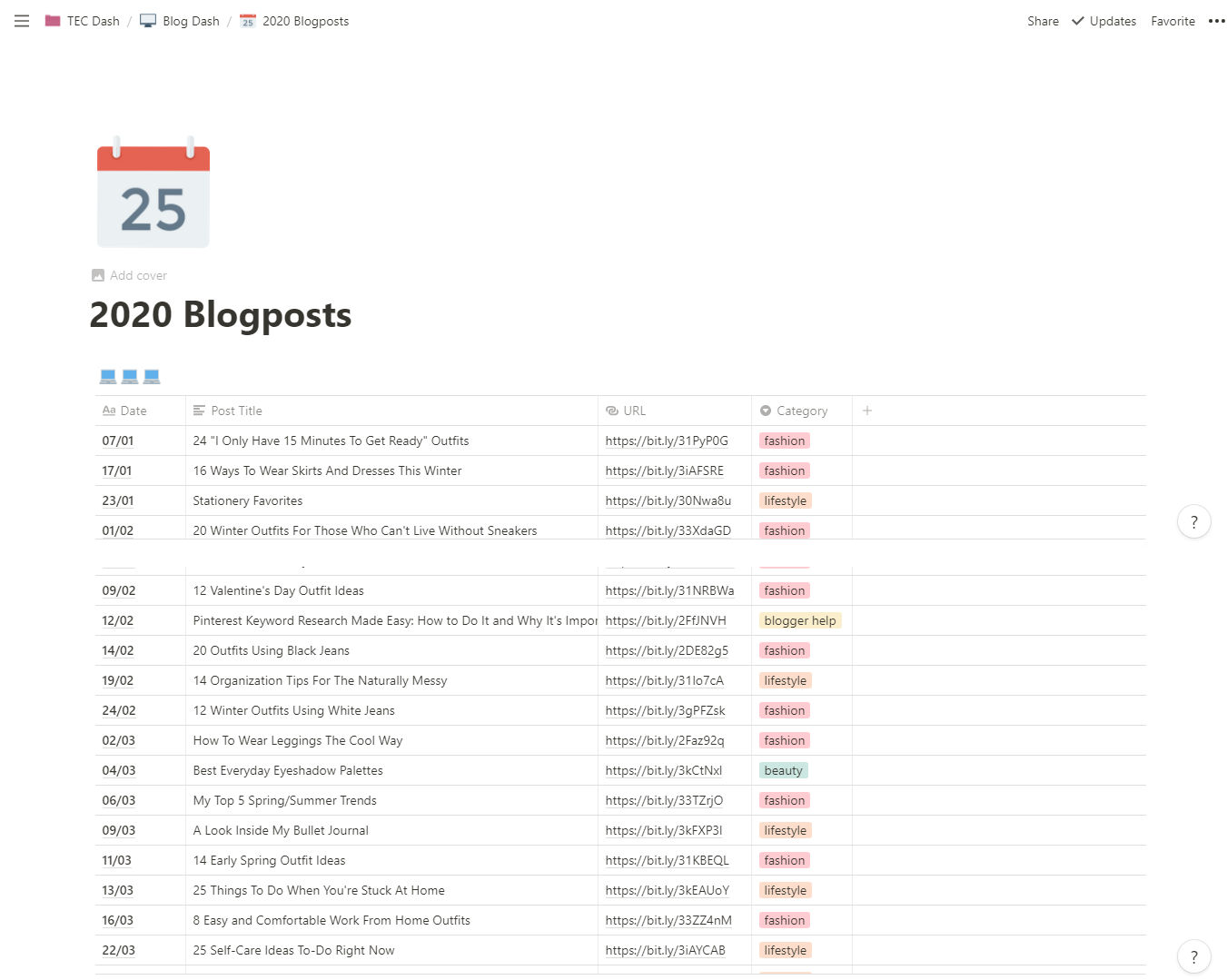 Every time I publish a blogpost, I immediately add it to my "All Blogposts" page. I add the date on which the post was aired, the name, link, and category.
This page serves 2 purposes:
Firstly, it gives me an overall look at all the blog posts I publish at any given year
Secondly, it makes my tweet scheduling process a whole lot easier
Content Upgrade
To finish off, we have my content upgrade page.
I've been trying to improve me SEO score for a while now so I've been upgrading all my old posts, as well as deleting ones that don't vibe with me anymore.
I created this page to make the process of updating my content easier. I just created a table where I listed all things to tackle on each post. Then as I go through the posts, I check off what is done.
So, his is how I use Notion for blogging!
Today I didn't go into the details of how to create things, but if you're interested, you can check Notion's youtube channel. There are a ton of tutorials on how to use all features on the platform.
If you want to take your blog posts to the next level, I highly recommend Ultimate SEO Boss (af) as well as Pro Email Marketing Tips for Bloggers (af). They are great resources, trust me!
What is your favorite way to organize your blogging life?
YOU MIGHT ALSO LIKE:
FOLLOW ME:
VIRTUAL STYLING INSTAGRAM | PERSONAL INSTAGRAM | TWITTER | PINTEREST | BLOGLOVIN | FACEBOOK