7 Neutral Winter Outfits You'll Love Wearing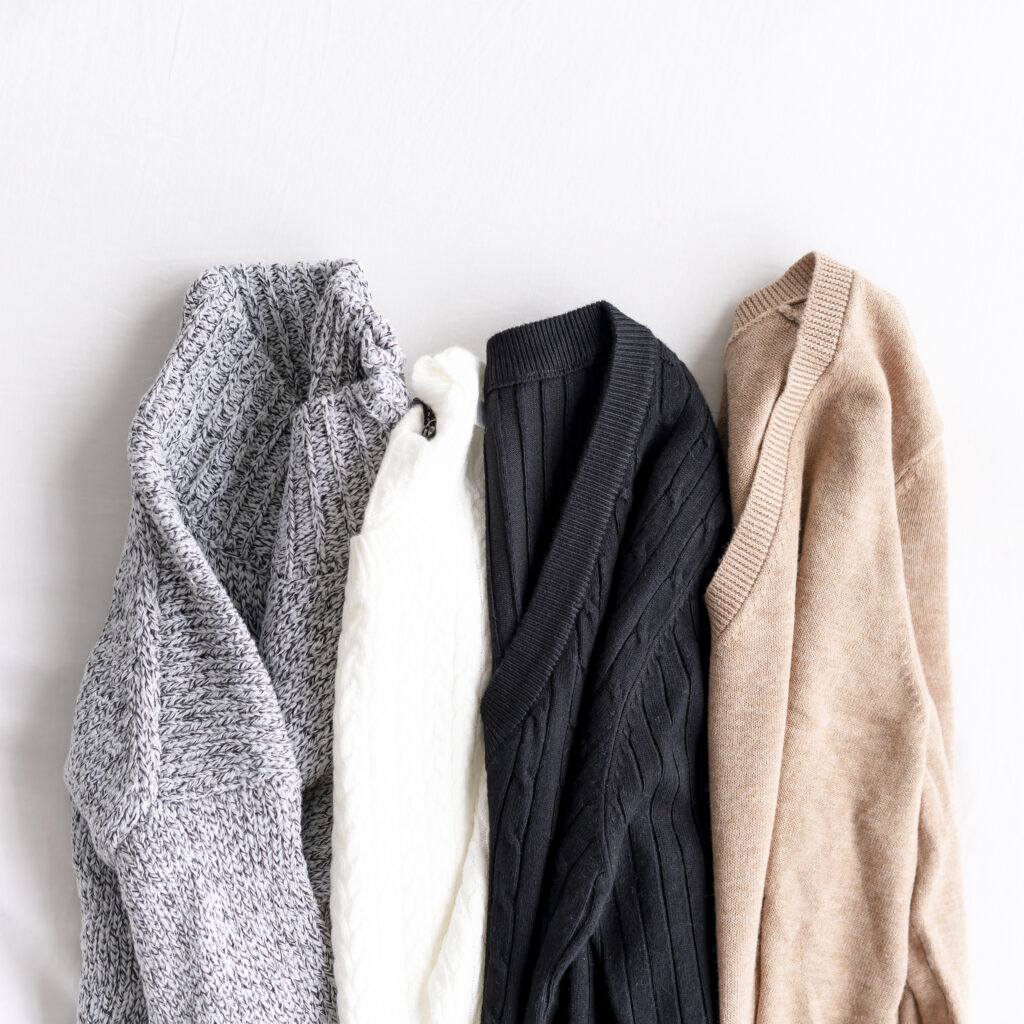 If you're a neutrals junkie like myself, I think you'll love this post because I'm sharing 13 super cute neutral winter outfits you will absolutely love wearing!
If you follow my Virtual Styling Instagram you know how obsessed I am with neutral outfits - I just love them. (btw all these outfits are from my IG so if you love them, why not give me a follow over there?)
Building a capsule wardrobe based on neutral pieces is probably the best thing you can do for yourself. Think about it: it's like having a blank canvas that you can paint over. You can create an entire outfit using just neutral clothes, but you can also add pops of color to it. And since you're using neutral basics it becomes super easy to do so.
Since we're in winter, I thought it would be great to discuss how to create neutral winter outfits in an easy and quick way.
Disclaimer: This post contains affiliate links which means I may receive a small commission when you purchase an item through these links. There is no additional cost to you.
Neutral Winter Outfits
Neutral winter outfits with shorts
Let's start with outfits with shorts. It can seem a bit daunting to wear shorts during winter but it's actually easier (and warmer) than you might think.
The secret is to wear thick tights and layer, layer, layer. If you want those sheer tights to look without freezing to death, here's a trick for you: put on a pair of fleece tights that best match your skin tone, and then add your sheer tights on top. Done.
The second look is simpler but still uses the same boots. Again we have a turtleneck sweater, this time in a nude color. To make this look warmer add a black oversized coat and you're good to go.
The last look isn't as warm as the others but you can just tweak it a bit and make it winter-worthy. I went for an all-leather look with the shorts and the jacket, paired with a beige button-down shirt.
Oh, by the way, these outfits can all be shopped on my Shop page. I get a small commission every time you purchase anything with no additional cost to you.
Outfits with leather pants
In the second category of neutral winter outfits, we have outfits with leather pants.
Leather pants are a staple in anyone's winter wardrobe. It doesn't matter the cut or the color, you just need to have a pair.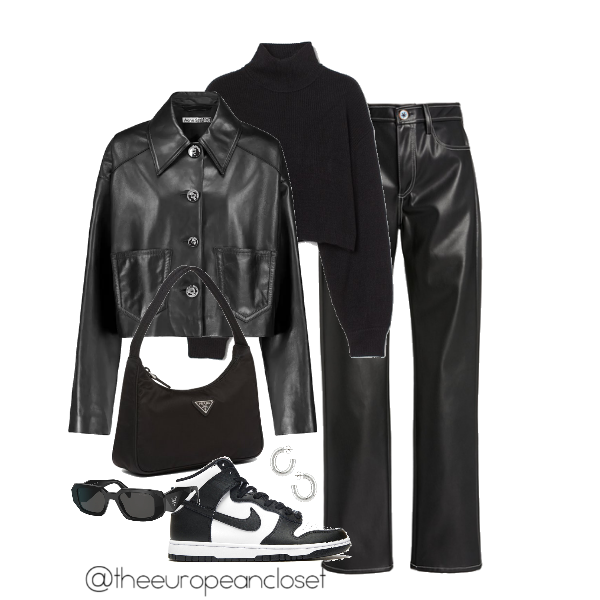 For the first look, I choose to make the focal point of the outfit the sneakers so I kept everything else all black. Again we have an all-leather look for those cool aesthetic girls.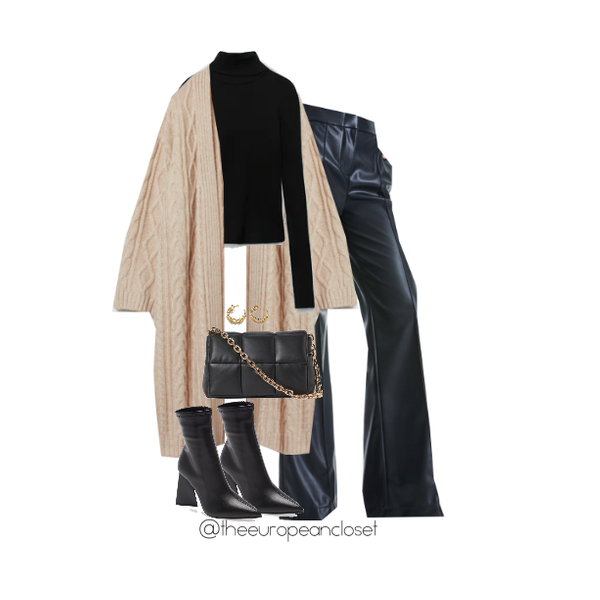 If you're feeling a little fancier this look will probably suit you better. Pair your leather pants with a black slim-fit turtleneck and a long beige cardigan. Add some black heeled booties, a cute bag, and earrings and you're out the door.
Winter outfits with pants & jeans
Lastly, we will be talking about outfits with pants and jeans. Jeans, again, are a staple in anyone's wardrobe so it's only natural that you will use them during winter.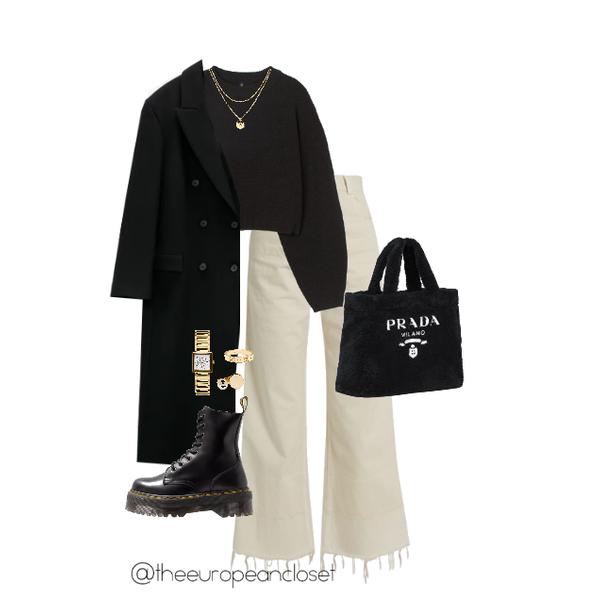 This look is super cool in my opinion. I love that the pants are the only thing that is not black, giving them the attention that they deserve. Jeans like this have been all the rage this past year so I decided to create a look with them.
If you don't have jeans like this you can always recreate this look with your favorite pair of jeans. As I mentioned before, these are neutral winter outfits, meaning they can be worn a million different ways.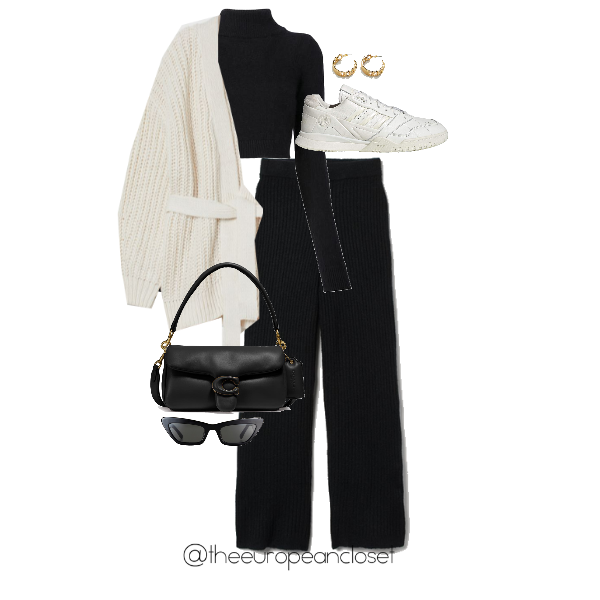 The last look is perfect for those days where we don't know what to wear and just want to be comfy. Since going out in your pajamas is frowned upon (sigh), get yourself cute loungewear-style pants and top.
These ribbed knit pants will keep you warm and comfy all day long. Pair them with a black top, a wool cardigan, your favorite bag, and sneakers and that's that!
Let me know in the comments which look was your favorite!
FOLLOW ME:
VIRTUAL STYLING INSTAGRAM | PERSONAL INSTAGRAM | TWITTER | PINTEREST | BLOGLOVIN | FACEBOOK