100 Amazing Blog Post Ideas + FREE EBOOK
Are you a blogger who's ran out of blog post ideas? You've turned your brain upside down looking for inspiration but nothing seems to come out?
Well don't worry. I've got the answer to all your content idea prayers.
In today's post, I'll be sharing 40 of the 100 blog topic ideas on my new FREE Ebook, just to get you a bit excited. If you want to get access to the entirety of the Ebook, please sign up below:
On this free Ebook, you will have access to 100 (yes, you read that right, one hundred!) blog post ideas from the following niches:
Blogging and Social Media
Fashion
Lifestyle
Productivity and Organization
The ideas are equally divided between the four niches, meaning you get 25 ideas for each category.
Most of the ideas on the freebie are ones that I've tried and know for a fact work. I wouldn't give you something crappy, you know?
BLOG POST IDEAS
Blogging & Social Media Post Ideas
Best apps to create amazing Instagram stories
How to make your first sale with affiliate marketing
Fashion Blog Post Ideas
Basic accessories every girl should have
Capsule wardrobe essentials
5 pieces to invest in
How to style white shirts from day to night
Lifestyle Post Ideas
Favorite recipes for when you have no time to cook
Books you've been loving lately
Best DIY's you've come across on Pinterest
How to throw the perfect dinner party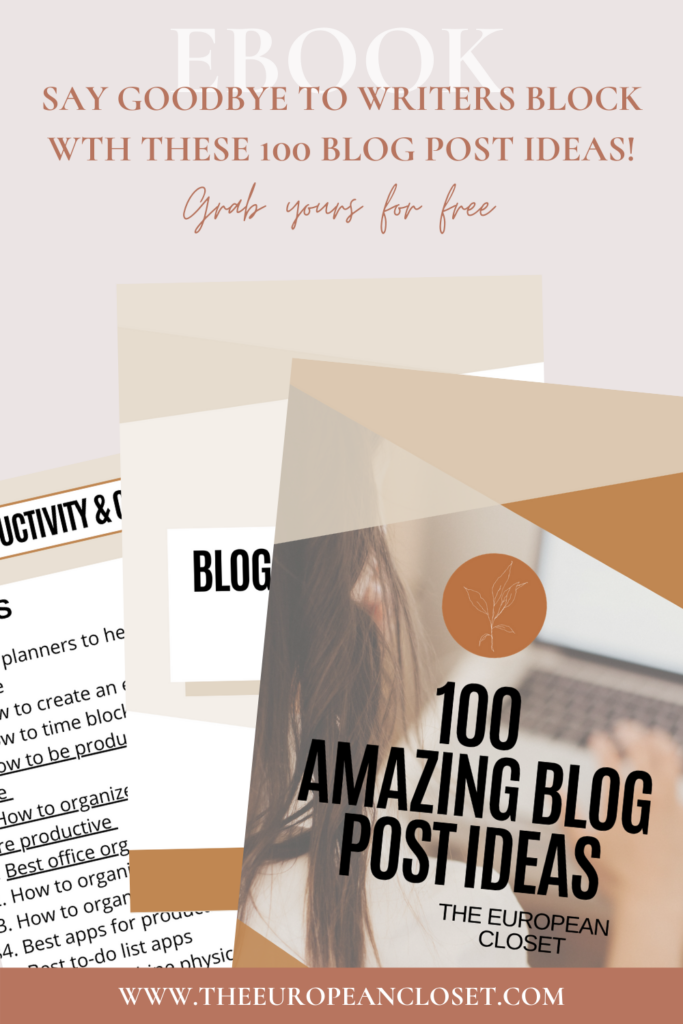 Productivity & Organization Post Ideas
Favorite organization tools
Top 10 productivity hacks
How to time block your day
How to create an effective to-do list
Best to-do list apps
To gain access to the Ebook and all the 100 post ideas, sign up below!
If you want to know how to make money for selling digital products online, check out Social Buzzhive's How to Make 6 Figures Selling Digital Products Online |AF
FOLLOW ME:
VIRTUAL STYLING INSTAGRAM | PERSONAL INSTAGRAM | TWITTER | PINTEREST | BLOGLOVIN | FACEBOOK